isentropic_interpolation_as_dataset#
metpy.calc.

isentropic_interpolation_as_dataset

(

levels

,

temperature

,

*

args

,

max_iters

=

50

,

eps

=

1e-06

,

bottom_up_search

=

True

)

#

Interpolate xarray data in isobaric coords to isentropic coords, returning a Dataset.

Parameters

:

Returns

:

xarray.Dataset – Dataset with pressure, temperature, and each additional argument, all on the specified isentropic coordinates.

Notes

Input variable arrays must have the same number of vertical levels as the pressure levels array. Pressure is calculated on isentropic surfaces by assuming that temperature varies linearly with the natural log of pressure. Linear interpolation is then used in the vertical to find the pressure at each isentropic level. Interpolation method from [Ziv1994]. Any additional arguments are assumed to vary linearly with temperature and will be linearly interpolated to the new isentropic levels.

This formulation relies upon xarray functionality. If using Pint Quantities, use isentropic_interpolation instead.
Examples using

metpy.calc.isentropic_interpolation_as_dataset

#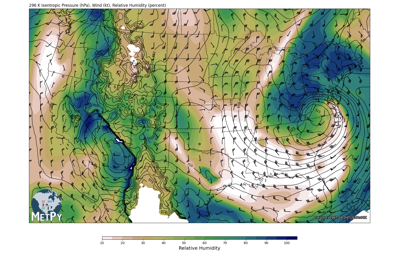 Isentropic Analysis