edit
Maps, Views, Projections
Default Map Scales
The first toolbar menu item is a dropdown menu for different geographic areas and map projections. The efault view is always CONUS, which is a North Polar Steregraphic projection centered on the Continental United States.
Default projections and areas available in the menu
N. Hemisphere (North Polar Stereographic)
Regional (for the selected localization site)
WFO (for the selected localization site)
World Mercator
World CED
World Mollweide
Geostationary (GOES East Full Disk)
and Regional Mercator projections for Africa, Australia/NZ, South America, Europe, Alaska, Hawaii, Puerto Rico, Japan, Pacific Ocean, and the north and south poles.
There is also a WFO submenu which contains a map scale for every NWS localization site.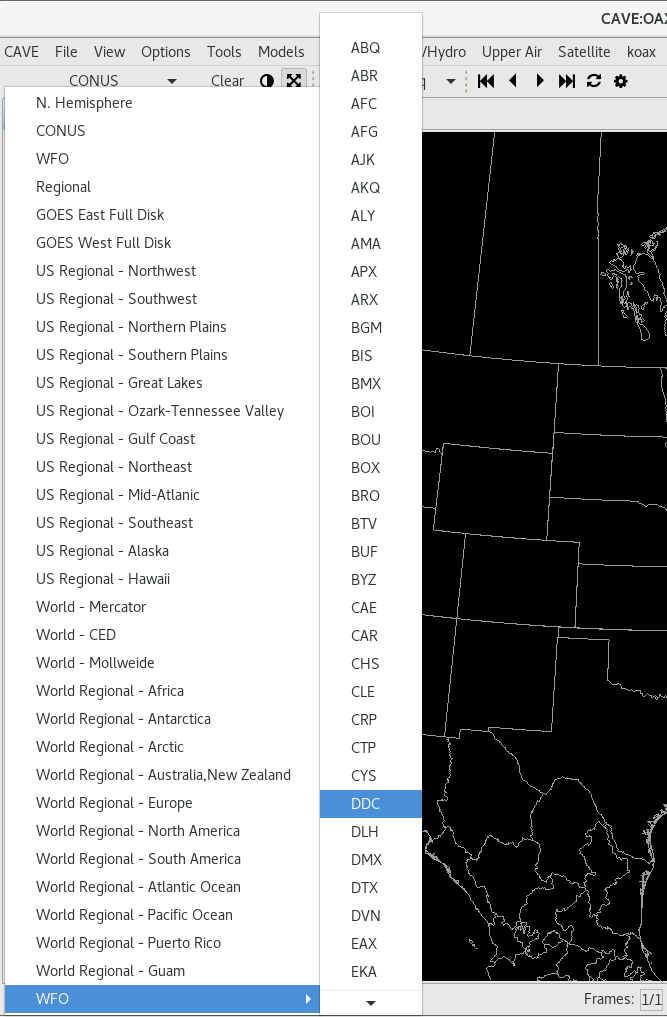 ---
New Map Editor / View
File > New Map
Opens a new map editor tab with the default projection (CONUS Polar Stereographic).
This can also be done by right-click on any tab and selecting New Editor
---
New Projection
File > New Projection
Create a new map projection.